Here are just a few of the iOS Apps created at Hexagonal Studios.
Universal Detector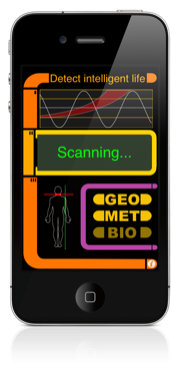 Universal Detector turns your iPhone or iPod touch into a Hi-Tech environmental scanner capable of finding rare Geological features and detecting embarrassing mental and physiological traits in people.
No, well, actually it's a novelty app designed to play tricks on your friends and family. Almost the same thing.
GreenScreen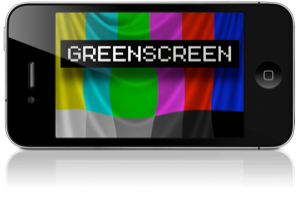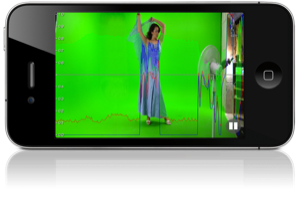 GreenScreen is a easy to use tool that lets you check colours are suitable for pulling Chroma Key matts.
Point your device at a patch of colour you intend to use for a background and GreenScreen will show you how much separation there is between colour channels.
Quick and Simple
Just point your iPhone, iPad or iPod at the surface you intend to pull the matt from, GreenScreen will graph the RGB color channels of the surface for you.
Realtime display
GreenScreen dynamically samples a horizontal line half way down the display.
The graph continuously updates as you scan surfaces.
CHEXX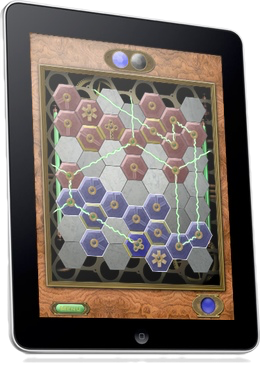 CHEXX is a multi-layered strategy board game for the iPad.
If you enjoy Chess, Shogi or Reversi, CHEXX may well be the game for you.
Gameplay involves a player positioning their pieces around the board to build a beam path that will destroy the opposing king when fired.
The objective of the game is to destroy your opponents king.
Pieces can be destroyed by either jumping on them or hitting them with a destructive energy beam.
The energy beam's path can be channeled by moving or rotating pieces allowing for surprise attacks on your opponent.
This ability to suddenly change the dynamic of the game adds an extra layer of complexity that seasoned board game players really enjoy.
CHEXX takes it's design clues from the Steampunk æsthetic and has been finished in the finest virtual exotic woods and marbles from around the world.
RPG Dice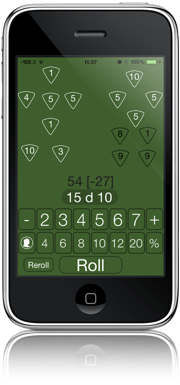 If you are a serious role player then you need RPG Dice.
Designed, with all the care and attention you expect of a RPG gamer.
RPG Dice has been designed as a fast clean dice roller for Gamemasters and players of Role Playing Games that want the result of a roll quickly. The clutter free interface allows you to quickly select your roll and get the result back fast, no waiting for animations to finally stop before seeing your result.